No stopping zone in Hamburg for companies
Faster work, short walking distances - parking space for trucks
Parking space is required for company relocations, craftsmen, events or similar events. Due to short transport routes, a move or furniture transport can be implemented quickly. With us you get a no stopping zone in Hamburg at a favourable price including all formalities.
Simply order your no stopping zone online from the removal company HMP.
HALTEVERBOTSZONE - sicher mit dem Parkplatz für Ihren Umzugswagen in Hamburg umziehen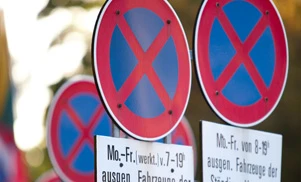 Kurze Wege beim Umzug sparen Kraft und Zeit! Parken Sie Ihren Umzugswagen optimal für Ihren Umzug. Bestellen Sie jetzt ein Halteverbot bzw. eine
Halteverbotszone
online. Ihr Partner für die Aufstellung der Halteverbotszonen HMP-Umzüge stellt die Beschilderung auf, übernimmt die Beantragung und räumt auch die Schilder wieder ab.
Hier können Sie zum günstigen
Pauschalpreis
ein Halteverbot am Aus- und Einzugsort in Hamburg bestellen,
inkl. aller behördlicher Genehmigungen und Formalitäten
.
Sollte eine beidseitige HVZ notwendig sein erhöht sich der Preis nachträglich um 20,00€.
Halteverbotszonen-Komplettservice für Ihren Umzug
Inklusiv-Leistungen:
Halteverbotszone bis ca. 15 m Länge
Halteverbots-Schild/er
Lieferung, Aufstellung (Aufbau / Abbau), Abholung
Miete für Halteverbotsschild/er
Behördengang inkl. Gebühren/Genehmigung (inklusive)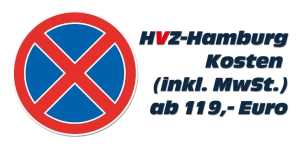 Für Halteverbotszonen in anderen Städten Sprechen Sie uns bitte an. Telefon: +49 (40) 3006 2222
Für die PLZ-Gebiete 20095, 20097, 20099, 20354, 20355, 20357, 20359, 20457, 20459, 20535, 20537 und 20539 in Hamburg wird aufgrund höherer Gebühren ein Aufschlag von 30,- € (inkl. MwSt.) berechnet.
Halteverbotszone bestellen
Order no stopping zone / HVZ online e.g. for Hamburg
Order your no stopping zone here!

Simply fill in the form and send it to us.
Secure a parking space for your removal van, move quickly.
Our HVZ includes the official permission and also the signposting (assembly and disassembly of the signs).

Reasons for a no-parking zone for companies can be, for example, deliveries, events, construction work or filming.

Especially in Hamburg, many companies from all industries use our reliable service.The booking for corporate clients is made via form, email or fax.

If you have any questions, please feel free to call us!