Online removal consultation
Online removal calculator with numerous features

Consulting Online
You can also call up our individual removal consultation directly online. For this we need some data about your move, so that we can guarantee a personal consultation. The cost of their move is the focus of our calculations.
We are here for you!
Here we can also take into account complicated issues, e.g. a wing must be transported, which causes some problems only by its weight. But also small aids, we e. a no-stop zone will be offered online during the calculation. We are happy to arrange a call back with you personally, if you prefer to call for advice.
Your advantages with the online calculation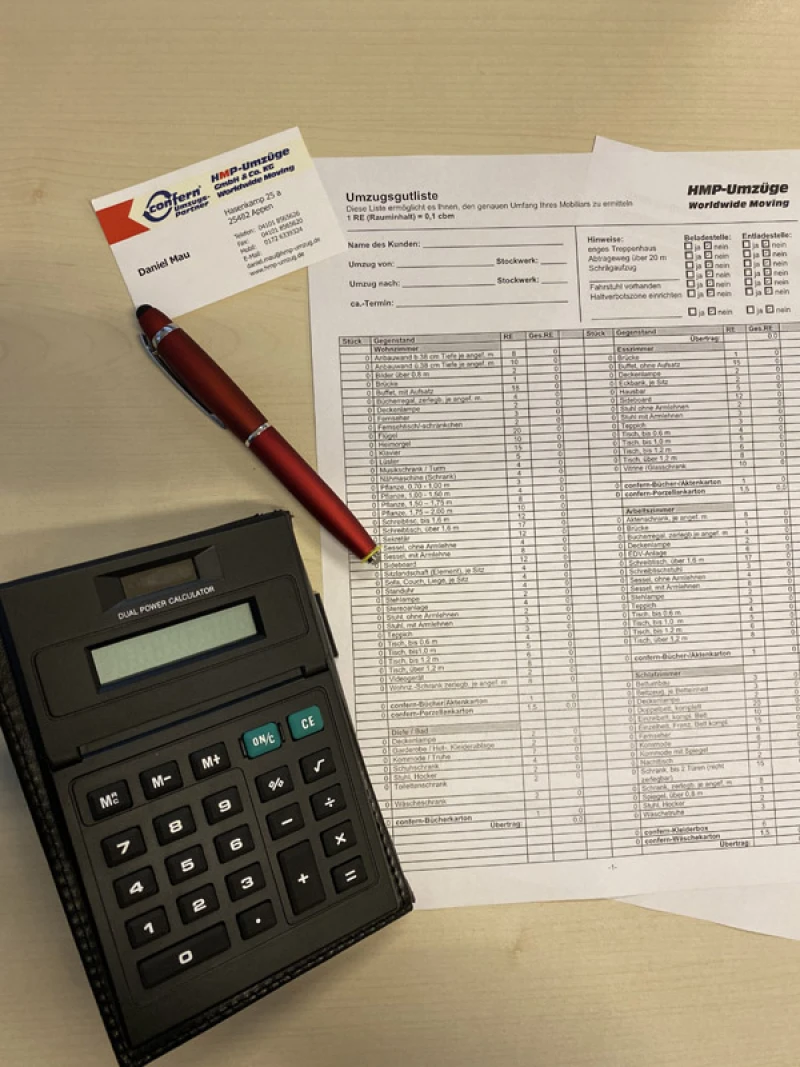 Quick overview of the costs
No personal appointment on site necessary
Quick calculation about the effort and the additional possibilities
Callback option for difficult requests
Configurator for the quick check
Relocation advice at HMP: Online and Offline
Use our online removal advice!
We provide you with various options for contact!
We not only try to make your move as pleasant as possible, but also the contact for enquiries about us, our offers and services.

You can make use of our online relocation advice services. These include our- Removal calculator (calculation of removal volume)

- storage calculator (calculation of storage space requirements)
- all forms on our website (enquiry form, call
-back form, etc.)

Of course, you can still reach us by phone or post.Providing good and comprehensive advice to our customers in the context of a move is important to us.

Your feedback is just as important for us to keep improving. Please give us feedback on our visits, consultations and removal services.

NEW: We now offer live removal inspections for flats of 100m2 or more. We are connected to you online with one of your devices. If you have any questions, please contact us by mail or phone (040-3006 2222).

We look forward to hearing from you.
Relocation advice: Your all-round carefree service for a smooth move
In today's world, moving is more than just moving boxes from A to B. It requires meticulous planning, coordination and understanding of each person's individual needs. It requires meticulous planning, coordination and an understanding of each person's individual needs. Our relocation consultancy is here to help you make this process as easy and stress-free as possible. With expert knowledge and years of experience, we - the removal company HMP Removals - have summarised the five main reasons why a professional removal consultation is essential for you:
Individual planning: Every move is unique. Our advice begins with a thorough analysis of your current and future living situation. This ensures that all your needs and requirements are met.
Cost saving: Moving can be expensive if you don't know exactly how to proceed. With professional advice, you can be sure to get the best service providers at the best price. No hidden costs, no nasty surprises.
Time management: A smooth move requires efficient time management. Our experts will help you create a detailed schedule so that you have every step under control.
Security and trust: Moving can sometimes be hectic and things can go wrong. Our removal consultants only work with trusted and insured service providers to ensure that your belongings arrive safe and intact.
Aftercare: Our service doesn't end when the last box is in your new home. We offer comprehensive aftercare to ensure that you feel comfortable in your new home and that everything runs smoothly.
Talk to our relocation consultant if you want to move. In addition to a specific relocation offer, you can receive further free information on request.

Request your personal offer now!
Information about our services
professional removal consultants
Top removal planning
No stopping zone on request
Purchase of removal material possible
Free offers
Settlement via Pirvat, company and office possible
Choose to suit your requirements

Free surveys and removal quotes from the professionals.
Sit back, relax and move with the professionals from HMP.

Simply contact your personal removal consultant.
They will be happy to provide you with an individual offer.