Moving during the Corona Pandemic
Moving under corona conditions - effects and measures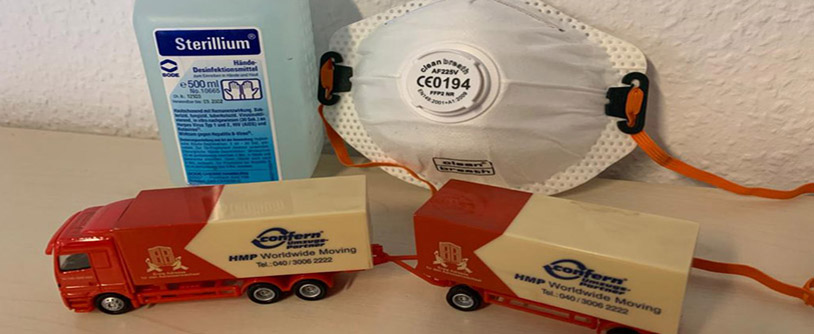 Moving during Corona?
Moving or relocating during Corona (All data as of 29 August 2023).

Due to Corona waves and the associated decrees, there are always some restrictions. Almost all staff members are vaccinated and regularly tested. Current federal, state and, if applicable, district/city ordinances that apply at our centre are strictly implemented. If you want to move, you may have some questions. We answer them below.

If you need any further clarification
please call us: 040 – 30 06 22 22


Is moving allowed despite Corona? Is there a ban on moving?
There is no ban on moving. However, the current conditions of the authorities during the Corona pandemic must be observed. The regulations may be slightly different in counties and federal states.

Does this also apply to a move abroad (international move)?
When moving abroad, the regulations of the other country must be observed in addition to the national (German) regulations. In addition, there may be delays at the borders, e.g. due to border controls.

Are removal companies and removal firms still allowed to work?
Yes, removal companies are still allowed to carry out removals, provided they comply with the regulations. As a modern forwarding company, we observe all instructions and regulations. Our staff is trained for this situation and observes the hygiene regulations (masks, disinfection). For this purpose, we distribute the personnel over several vehicles if possible. In addition, we have internally appointed an infection control assistant and made further internal regulations (e.g. for contact avoidance).

Are flat inspections possible?
In principle, visits to flats are possible, provided that the regulations are observed. Here, too, hygiene regulations must be observed and only a person from outside the household is allowed. We at HMP therefore offer several digital options to assist you (virtual viewing, move calculator, online move offer).

What regulations apply when moving house? What to look out for?
Current regulations and ordinances can be obtained from your respective federal state or the city's public order office (e.g. for www.hamburg.de und unter Verordnung - Corna Hamburg]).

What can people who are moving do?
First of all, naturally comply with hygiene regulations (ventilation, masks, disinfection of surfaces). First, of course, clarify whether there may be a quarantine for the persons moving. In this case, please inform us immediately.

What happens if there is a quarantine? When should a move be postponed?
In the event of a quarantine being present, please inform us in advance. In this case, we will discuss possible solutions with you.Do I need a parking space with a no-stopping zone (HVZ) for the removal van?Due to home office and exit restrictions (regulations), there are currently significantly fewer parking spaces available in residential areas. Therefore, no-stopping zones (HVZ) are strongly recommended for moving day.

Are private individuals allowed to help with the move?
Relocations are currently possible under consideration of the current regulations.

Does a booking of a removal van remain?In principle, bookings of a removal, a removal van and a no-stopping zone remain valid. If there is a problem with the moving date due to Corona, please contact us.

Is it possible to cancel a move due to Corona?If the move has to be postponed due to Corona and its accompanying symptoms, we will discuss alternatives with you and quickly find another way.Give us a call! Together we will simply find a solution.

We care about your health and ours!

Move and stay healthy. Corona is not the only thing that can limit a move. Stress and hectic are also bad advisors during a move. We at HMP Removals always strive to ensure a planned, smooth and therefore stress-free move.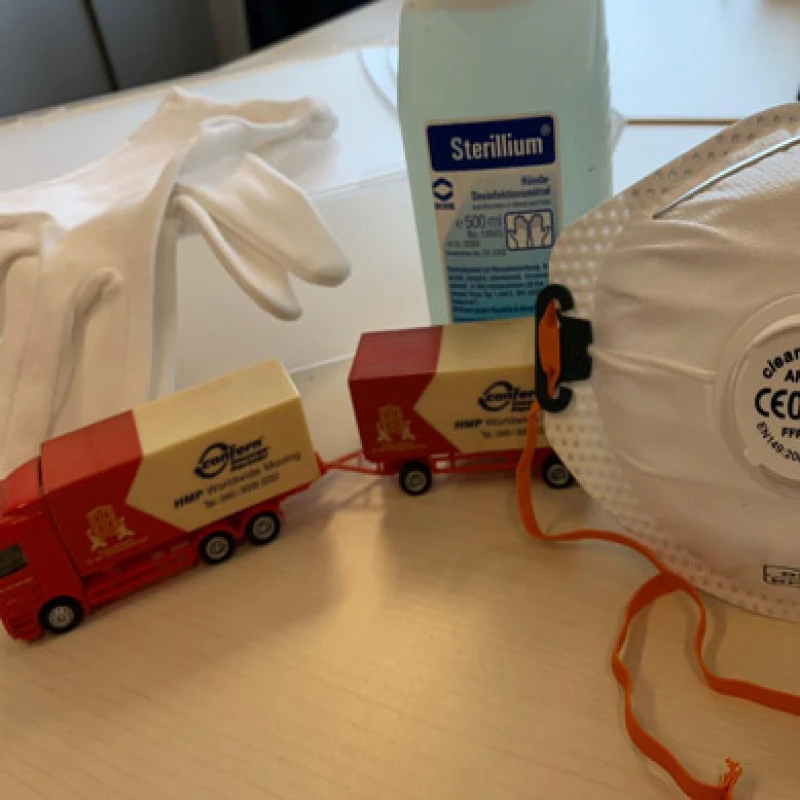 Due to the pandemic and to protect health, we offer contactless and reduced-contact solutions for our customers. This includes, in addition to our new relocation calculator, our forms and the
Move request with
virtual tour

Your moving company is thinking along during the Corona Pandemic.
We also carry out international removals during Corona. In this case, however, the respective entry regulations must be observed in addition to the import regulations.There may also be delays and price changes if the move is to be carried out by sea container. For the latest information, simply ask your removal professional at HMP.
A
international move
naturally requires compliance with the respective conditions and regulations of the corresponding countries.
Move during Corona
Viewing (contactless) via smartphone / mobile phone ingeniously simple!
This is how simple the contactless removal survey works:

1. Book an appointment via the button "contactless removal inspection".

2. You will receive an appointment confirmation with a link for the viewing.


3. Click on the link shortly before the viewing and your online viewing will start.
­


Appointment contactless removal inspection