Relocation with inclined lift / outside lift
Transport routes simplify and shorten using an external lift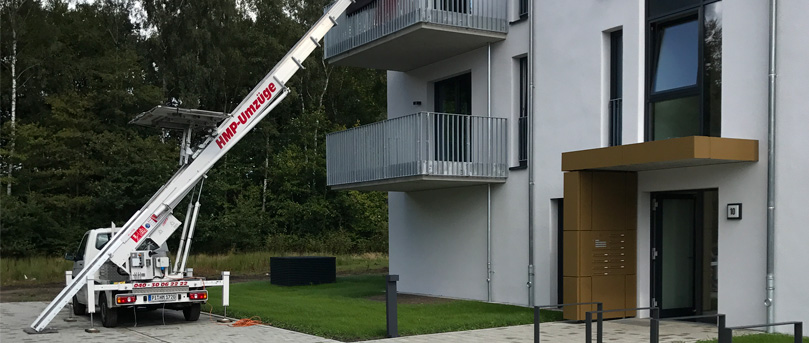 Transport aid inclined lift
Use of the public path through furniture lifts:

Short transport routes protect your removals! For heavy goods, it is sometimes advisable not to use the staircase or the entrance area for the corresponding piece of furniture.

Depending on the design, the outer wall is also suitable if you want to lift a large piece of furniture into the first floor or even higher.

HMP GmbH has an external lift, which is used in such scenarios.

The use of an external lift is an important alternative, especially for extremely bulky, large or heavy goods, since a stairwell is often too narrow or too narrow.

When using an external lift or an external lift, this is placed on the outside of the house.

Furniture and moving boxes are then no longer carried by the staircase but managed by means of the elevator through a window or over the balcony in apartment.

For piano transports, wing transports or similar goods, we and our customers have already rendered valuable services.

Permission for the furniture lift
HMP removals Furniture lifts, which are set up for the purpose of a move, are attributed in Hamburg to the residents' use.

Thus, no special use permit is required for this. However, the installation of the lifts must not abrogate the usability of the pavement, the cycle path and the parking strip.

Should there be a limitation on the way, then we can apply for an additional no-hold zone, which creates extra space.

In addition, a mobile outdoor lift or an outdoor elevator creates additional flexibility and can accelerate the actual transport.

If you have further questions about our fleet, please contact us. We will help you immediately.
Competence in moving
Advantages of using an external lift:
You save time and money
shortened transport routes
simplified transport of bulky furniture
Protection of the staircase
Recommendation: Outdoor lift + no-stopping zone
An outdoor lift / inclined lift is an excellent aid for a move. It saves time and is gentle on both the removal workers and the staircase.

Compare prices and costs:As a provider for an outdoor lift, we spare no comparison. Furthermore, as a removal company, we have the necessary permits and experience.