Relocation with inclined lift / outside lift
Transport routes simplify and shorten using an external lift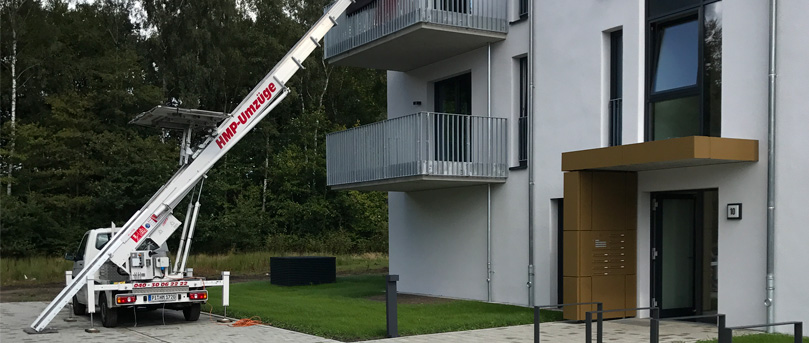 Transport aid inclined lift
Use of the public path through furniture lifts:

Short transport routes protect your removals! For heavy goods, it is sometimes advisable not to use the staircase or the entrance area for the corresponding piece of furniture.

Depending on the design, the outer wall is also suitable if you want to lift a large piece of furniture into the first floor or even higher.

HMP GmbH has an external lift, which is used in such scenarios.

The use of an external lift is an important alternative, especially for extremely bulky, large or heavy goods, since a stairwell is often too narrow or too narrow.

When using an external lift or an external lift, this is placed on the outside of the house.

Furniture and moving boxes are then no longer carried by the staircase but managed by means of the elevator through a window or over the balcony in apartment.

For piano transports, wing transports or similar goods, we and our customers have already rendered valuable services.

Permission for the furniture lift
HMP removals Furniture lifts, which are set up for the purpose of a move, are attributed in Hamburg to the residents' use.

Thus, no special use permit is required for this. However, the installation of the lifts must not abrogate the usability of the pavement, the cycle path and the parking strip.

Should there be a limitation on the way, then we can apply for an additional no-hold zone, which creates extra space.

In addition, a mobile outdoor lift or an outdoor elevator creates additional flexibility and can accelerate the actual transport.

If you have further questions about our fleet, please contact us. We will help you immediately.
Competence in moving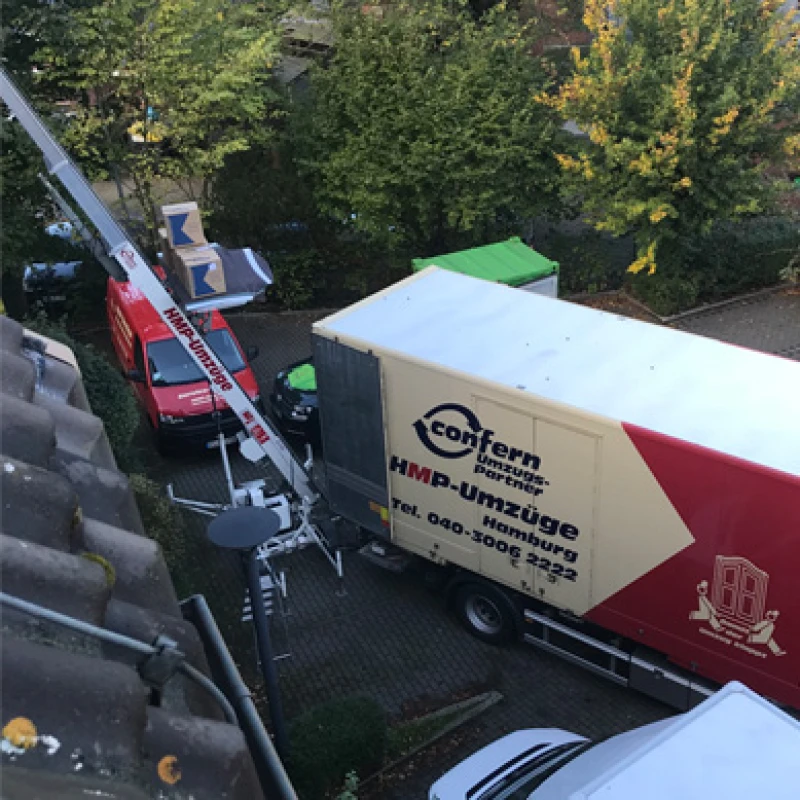 Advantages of using an external lift:
You save time and money
shortened transport routes
simplified transport of bulky furniture
Protection of the staircase
Recommendation: Outdoor lift + no-stopping zone
An outdoor lift / inclined lift is an excellent aid for a move. It saves time and is gentle on both the removal workers and the staircase.

Compare prices and costs:As a provider for an outdoor lift, we spare no comparison. Furthermore, as a removal company, we have the necessary permits and experience.

Outdoor lift for the move - Mobile use
As a removal company, HMP has several different models. An outdoor lift for moving is available either self-propelled or as a trailer.

If you have a requirement, please call us!
Why use an outdoor lift when moving?
Fast and efficient transport: An outdoor lift from HMP enables fast and efficient transport of furniture and other items between different floors.
Time saving: With an outdoor lift, heavy and bulky objects can be transported quickly and effortlessly, resulting in significant time savings and lower costs.
Less physical exertion: By using an outdoor lift, you no longer have to carry heavy loads up and down the stairs, which significantly reduces physical exertion.
Keine Schäden an Möbeln: Ein Außenaufzug minimiert das Risiko von Beschädigungen an Ihren Möbeln und anderen empfindlichen Gegenständen während des Umzugs.
Safety: Professional outdoor lifts from HMP are equipped with safety devices that prevent injuries and accidents when transporting heavy loads.
No stairwell bottlenecks: Bottlenecks in narrow stairwells are a thing of the past. With an outdoor lift, you can avoid obstacles and make the move smoothly.
More comfortable for older people (seniors) and people with disabilities: An outdoor lift makes moving much easier for older people or people with disabilities, as they no longer have to tackle the stairs.
Protection from the elements: An outdoor lift offers protection from bad weather, which is particularly beneficial when moving in rainy or wintry conditions.
No damage to stairs: By using an outdoor lift, the risk of damage to stairs, walls and railings is minimised as heavy objects do not have to be transported over them. All the residents of the house are happy about this.
Greater load capacity: An outdoor lift usually has a higher load capacity than a staircase, so you can transport more items at once.
Simultaneous transport: With an outdoor lift, you can transport items from different floors at the same time, which speeds up the moving process.
Easy transport of bulky items: Bulky items such as sofas, beds or wardrobes can be transported much more easily and safely with an outdoor lift than via stairs.
Less damage to walls and floors: By not having to climb stairs, walls and floors in both flats are subjected to less stress, which minimises damage and repairs.
Less disturbance for other residents: With an outdoor lift, you avoid unnecessary noise pollution and disturbance for other residents in the building during the move.
There are many reasons to use an external lift in Hamburg, Germany or in other countries (international removals). Talk to your removal company HMP Umzüge.