H
M

P-Umzüge Confern Partner Germany
Strong together. HMP removals and partners.

Simply move cleverly
HMP Removals is a member of the Confern Group. They include over 60 companies with over 70 locations.

Solutions for higher requirements of Logistik can be solved together with our partner from the Confern.
Logistics network
Great moves
Company relocations
Project removals
The Confern Group is a network of moving companies and logistics companies. In all federal states in Germany, the conference is represented or can offer their services.

Together in cooperation we use our competences in the fields of logistics, removals, furniture transport and storage.
History of the Confern
The Confern was founded in 1967 by 12 well-known German moving companies. The primary goal was to support each other and avoid empty runs. To this day, these goals have lost nothing of actuality and necessity.

Currently, 60 partner companies from all over Germany are members of the Confern Group. 2,000 employees organize more than 40,000 removals a year, from planning through implementation to the final quality control.

The development of the Confern continued in 2002 with the founding of the Eurovan Deutschland GmbH and the associated establishment of an international network. More than 30 partner companies currently stand for international competence and optimal service.

Other power ranges, such as Neumöbeldistribution, storage, file archiving and 2-man logistics complete the portfolio.
Data and facts about the Confern Group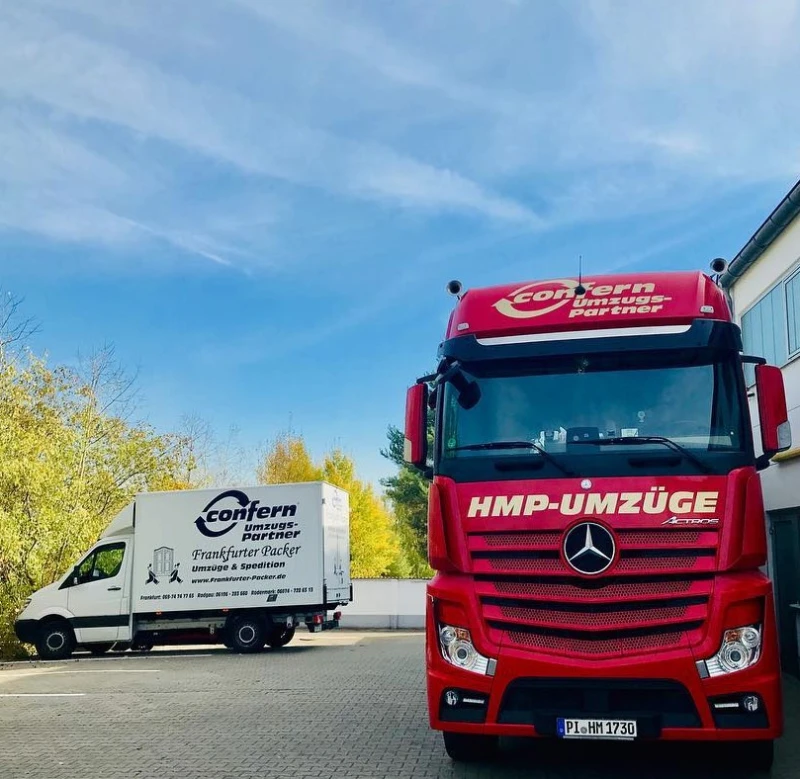 Number of removals: Every year about 40,000 households move with confern. That's about the move of a 120,000 inhabitants German city like Würzburg to Göttingen ... or vice versa.

Used cartons: Every year about 1.1 million cartons are used to protect and transport your relocation goods. When these boxes are strung together, they cover the distance of 660 km, or even across Germany - from Aachen to Dresden.

Kilometers traveled: The confern trucks cover about 10 million km per year. This conferns the earth every 1.5 days.
What is a Confern move?
At a Confern moving company we set standards and offer quality.

You receive concentrated know-how from the many affiliated companies.

Internal training, regular meetings and constructive cooperation are the basis for worldwide removals and transports.
Confern removals advantages
common level of knowledge
modern transport material
Tried and tested moving material
fair and reasonable prices
flexible capacities
international co-operations
Relocations to countries worldwide: In its more than 40-year history, confern has made relocations in over 90% of the world's countries. Most of them in Europe, followed by America and Asia.

Highlight: The move of the entire German Bundestag from Bonn to Berlin was a challenge, which was overcome by the community of confern partners. From July 5 to 30, 1999, 200 confern employees were deployed daily to move a total of 32,000 cubic meters of moving goods from the old to the new capital. Every day 40 containers were loaded onto the train. In total, 37,000 m files, 46,000 book boxes and 1,300 PCs were moved during this move.

Moving: Simple. Better. With conferences.