Piano transport or wing transport
HMP, so that your musical instruments reach their destination safely.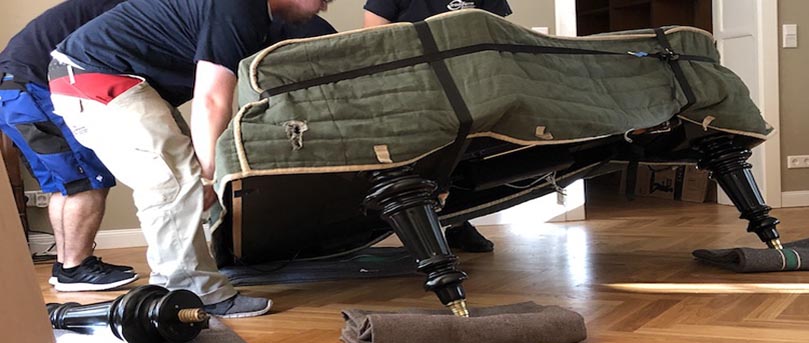 Piano and grand piano transports
Heavy and bulky goods can only be transported with the utmost care. Pianos, grand pianos and similar items certainly belong in this category.

In addition to their enormous weight, they also have a great material value.

HMP GmbH has specialized in piano transports and wing transports for many years, so we have a wealth of experience in the transport of such instruments.

Each piano transport is evaluated by our experts and then the optimal vehicle and the right tool for the transport selected.

In doing so, we pay particular attention to an extensive transport safety device so that the piano or the wing reaches its destination without prejudice.

We also take care of the structure of the piano, if required, when individual parts have been dismantled before the piano transport.
Service during transport
Protection of the musical instrument by appropriate packaging
Professional wearing (furniture belts tec.)
Insurance in case of cases
As a logistics specialist, we also have the right packaging material for pianos, grand pianos and pianos of any size to avoid unpleasant scratches or other damage.

We transport grand pianos in vehicles with sufficient cargo space, so that the instrument can be sufficiently secured.

If you are planning a piano transport, then you should rely on an experienced partner. If we have all the information about Instrument then we will make you a fair offer.

On request we can also assist you with expert craftsmen.

piano transport with quality at a fair price!
The transport of a valuable musical instrument is realized with utmost care by us.

Here quality goes before quantity or better: we expertly carry out your piano transport.

Of course we try to implement this with an optimal price for you.

We can transport your musical instruments quickly, easily and uncomplicated.

We can transport your musical instrument (piano transport) quickly and easily in Hamburg and the surrounding area (Pinneberg, Norderstedt and Elmshorn). National (Germany-wide) transports are of course also possible.

Whether you want to transport a grand piano or a smaller piano, we offer optimal piano transports.

Transports (piano transports and grand piano transports) are special transports, which we offer for the metropolitan region of Hamburg as well as throughout Germany. Ask for your attractive and non-binding offer now.

Contact us! We're here to help.