Stop zone Hamburg - simply order online
Reserve free parking spaces for the removal van online.
Apply stress-free and online through us for a no-parking zone incl. official permit. We set up the signs for you.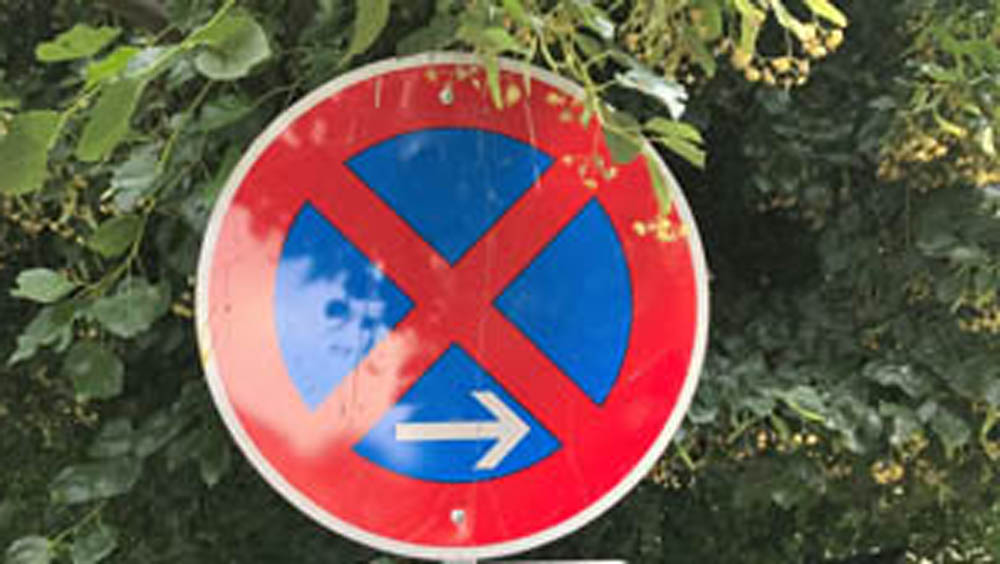 Application for a no-stop zone / HVZ
The advantages of a no-stopping zone (HVZ) are obvious, because a parking space shortage is a daily occurrence, especially in cities and urban centers.

At HMP you can order a no-stop zone for all communities in Germany online. This ensures that enough space is available for your removal van on the day of the move.

Further advantages of a no-stop zone (HVZ) are:
Short paths during loading and unloading
- Save time
- save forces
- allow concentration on the essentials

Short ways to move save time and energy! Put your moving car together optimally for your move.

Order now a stop or a no-hold zone (HVZ) in just a few minutes online. The prices for a no-hold zone vary minimally, depending on the municipality or city (for example Berlin, Munic, Frankfurt, Stuttgart oder Cologne).

Their partner for the installation of the no-stopping zones HMP from Hamburg has been putting up the no-hold signs for years, taking over the application and also removing the no-show signs.

Hold ban online for a fixed price!

Moving signs incl. Official approval
Order your no-parking zones (also known colloquially as no-parking zones) for Hamburg or another city or municipality in Germany online using our form.

After we have received your order, we take care of everything else.

Please note that as a rule the HVZ must be applied for at least 14 working days prior to installation so that all formalities can be clarified with the respective municipality.

The necessary information is important for the necessary length of the no-parking zone so you do not overpay. Especially the length of the respective moving transporter is important.

We are happy to advise you on our vehicle fleet and find the right moving vehicle for you from our extensive fleet.

Here you can order a no-hold zone at the point of departure and destination for a reasonable all-inclusive price, including all official permits and formalities.

If you have any questions about a no-hold zone HVZ, then contact us.

We're here to help!
Example of a stopping zone - sign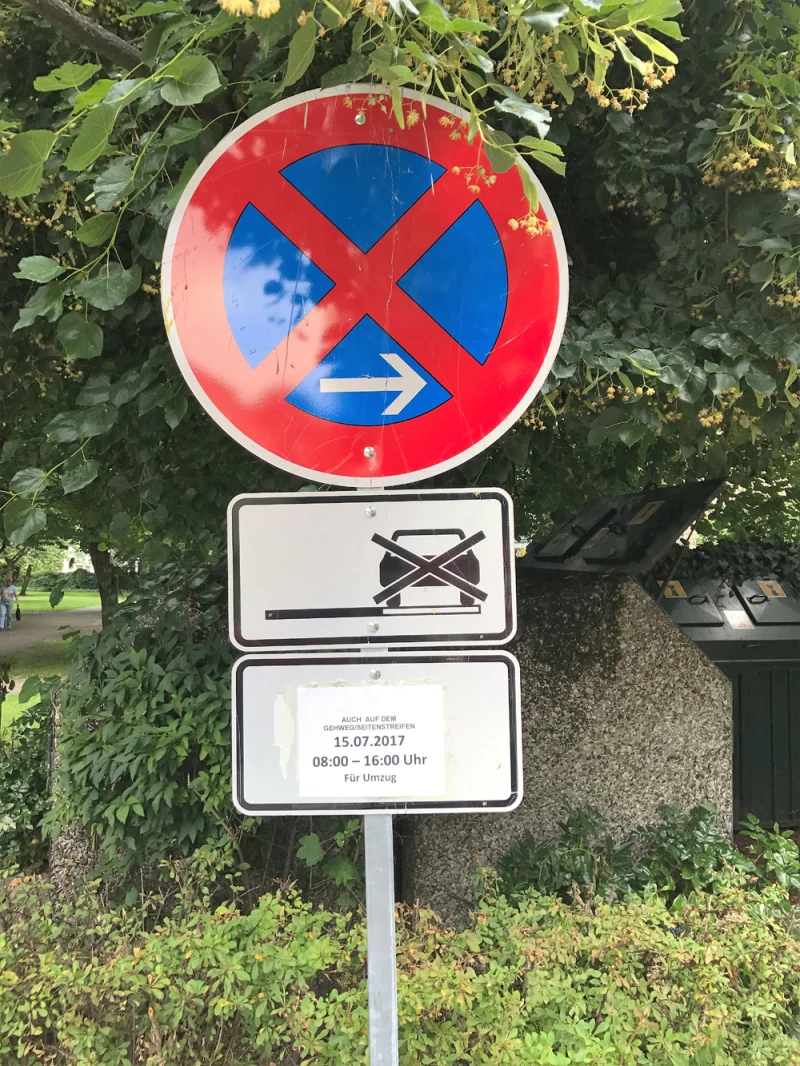 Price example no parking zone
A single HVZ from 119 ,00€ (incl. VAT) e.g. in Hamburg in most districts in Hamburg (city centre 149,00€).

For prices for other locations and municipalities, please contact our professional for holding zones, Mr. Elfreich.

Setting up a no-stop zone up to approx. 20 m in length incl. Delivery, set-up and dismantling, pick-up, set-up time and sign rental up to three days.

Simply apply for an online stop zone including signposting.

The payment is convenient and without risk on account. We are happy to answer your questions at +49 - 41 01 - 856 560.
Order no-stopping zones (HVZ) online
Your own barriers in public parking spaces are not permitted according to stvo. Work with the professionals from the removal company HMP. Order conveniently: You enter the required details in the form and we take care of the necessary work.

Of course, for your move to and from other cities e.g. Norderstedt, Elmshorn, no stopping you can apply for your HVZ with us. If you would like to order a no-parking zone (HVZ) or have any questions, please contact us.

The responsible authority is the Hamburg police. We apply for the permit and provide the traffic signs. However, if a vehicle is parked in the zone, it will be removed by order of the police. In this case, please contact the police with our letter on the day of validity.

The most common reasons for applying are removals, film, events, deliveries or tradesmen.

Set up HVZ and have it set up
Put up no stopping signs
After we have applied for the official permit for you and this has been issued, we put up the signs according to the specifications. This must be at least 3 full days before the event (removal or similar).

If a car is still parked in the HVZ zone, there are two options:

1. the car was already there before the signs were put up. In this case, inform the issuing authority in good time and the car will be moved close to the location.

2. the vehicle was placed in the area after the no-stopping signs were erected. Then inform the issuing authority in good time and the car will be towed away.

As a rule, an attempt is made to find the owner so that they can remove the car immediately.
No-stopping zone removal Hamburg: fair, inexpensive and reliable
Perfect service does not only include good services at a fair and reasonable price.Frequently, questions arise when ordering a no-stopping zone when moving in Hamburg or other cities.
We answer these questions in the following.
In der Regel beträgt die Breite einer HVZ 15 Meter. Dies reicht für einen normalen Umzugswagen aus. Entsprechend Parkraum sollte grundsätzlich zur Verfügung stehen.
Ab einer Länge von 20 Meter müssen weitere Schilder aufgestellt werden. Hierdurch ergeben sich dann auch entsprechende zusätzliche Kosten.

Die Uhrzeit richtet sich unter anderem auch nach der Lärmschutzverordnung. So sind Umzugsarbeiten nicht in Nachtzeiten gewünscht. Genehmigung werden somit für den Zeitraum zwischen 7 und 20 Uhr erteilt.
Unser Servive umfasst die Genehmigung bei der entsprechende Behörde. Somit fallen bei einer normalen Halteverbotszone keine weiteren Kosten an.
Die Schilder werden spätestens 4 Tage vor dem Buchungstermin aufgestellt. Halter werden so mindestens 72 Stunden vor Beginn der Sperrung mit Hilfe der Schilder informiert.
Unser Kunde erhält alle Unterlagen zur HVZ spätestens 1-2 Tage vor dem Buchungstermin. Sollte dieser auf einen Montag fallen sind diese entsprechend vor dem Wochenende da.
Die Rechnung für die Halteverbotszone ihrer Bestellung versenden wir sowohl per Mail als auch per Post.
Wir holen die Schilder innerhalb der nächsten 7 Tage auch wieder ab.
Für ein und dieselbe HVZ ist der Preis für die Dauer von zwei Tage der gleiche.
Für einen längern Zeitraum fragen Sie bitte persönlich per Telefon oder Mail an.

Der Preis ist unabhängig von der Uhrzeit. Allerdings genehmigt die ausstellende Behörde in Hamburg in der Regel nur Zeit zwichen 7 und 20 Uhr aufgrund von möglicher Lärmbelastung.
Die Länge der HVZ ergibt sich aus der verfügbaren Fläche. Meistens ist eine Länge von 15 Meter der Standard. Längen von über 20 Metern müssen gesondert ausgeschildert werden. Hierdurch ergeben sich entsprechend zusätzliche Kosten.
In den Ihnen vor Beginn des Buchungsdatums ausgeändigten Unterlagen ist eine Telefonnummer der zuständigen Behörde / Dienststelle der Polizei angegeben. Diese können Sie mit Beginn der Sperrzeit kontaktieren. Vorher und Hinterher des Zeitraums ist die Parkfläche selbstverständlich für andere Verkehrsteilnehmer nutzbar.
Secure parking space for the move in Hamburg with the installation of a no-stopping sign!